Z-RAYS
z/OS Monitoring Tool
Value Proposition
For mainframe administrators
Who needs to monitor the IT system(s) comprehensive and automatically in order to detect issues at an early stage and predict anomalies or resource exhaustion
Our Z-RAYS software is the primary tool supporting administrator for exhaustive and coherent view and alerting if anything happens thanks to smart machine-data collection and machine learning algorithm
That enables the automation of the mainframe system monitoring process, as well as integrates with other monitoring and management tools of the IT environment as a whole
Our offer could be implemented easy way on-premise or SaaS model and characterized by:
precise data in real-time and in a exact format,
openness to change and integration with other tools,
alerting using AI algorithms,
easy to install and operate.
What We Offer
Z-RAYS is a software tool that makes z/OS performance data available, understandable and presentable, or exportable. Based on existing infrastructure for accessing machine data on z/OS systems, the tool gathers data from multiple sources, including SMF records, RMF, Syslog, security logs. As a result, the tool provides data for common analytics platforms, streaming it in almost real-time.
Thanks to Z-RAYS, you can stream that data in nearly real-time, sending it to multiple destinations in different formats for different consumers and allow IT operations to analyze and manage operating systems, databases, and mainframe other environments.
Modern admin monitoring Z-RAYS-console provides a comprehensive performance and availability view makes administrator life easier and enables to take actions professionally based on figures:
detecting mainframe performance problems across multiple subsystems,
allowing computer operations personnel to isolate quickly and take action on these problems,
status tracking and prediction for better resource allocation, utilization, or planning.
Z-RAYS is in the same tool class as IBM Common Data Provider, Intellimagic, and EPV – but has more and better features and wrap up the best scope among competitors, while at the same time not affecting monitored resources.
For Whom
If you operate on large infrastructure size and have organizational or technical challenges due to increasing systems complexity producing too much data to analyze, Z-RAYS is the solution. Z-RAYS tools address the pain of dynamic workload, old reporting process, manual analytics and finally not enough experts.
It is a direct help in the case of an insufficient number of mainframe-specialized IT staff observed on the market today.
What Makes A Difference

Smart data collection across all sources covering needed areas including SMF records, RMF, Syslog, DB2 performance metrics (100, 101), Network performance metrics (TCPIP, TCP/UDP), Application subsystem metrics, security log and events, hardware performance statistics and other, doing this in nearly real-time mode avoiding garbage. It's a pivotal point to dig proper metrics and the relation between and construct relevant information to avoid noise.
Thanks to AI algorithms, the core of computation is automatically detecting anomalies in performance data. It helps find patterns used in time series modeling to detect anomalies in your current data, forecast – trends based on historical data and automatically detect incidents. No expert or traditional algorithm can work on this due to the size of data and non-obvious dependencies.
Professionally created usability captures installation, custom parametrization, daily visual monitoring, alerting and integration with other tracking or analytical tools. The completeness of the tool makes the administrator support have all is needed in place. Particular emphasis was placed on the usability and transparency of the data presented, as well as the ergonomics of operations, giving flexible access to data in many views.
The big differentiator is the ability to integrate with the world's leading monitoring and analytic technologies. Z-RAYS is ready to support:
Elastic Stack (formerly known as the ELK Stack) is a collection of the popular open-source software tools Elasticsearch, Logstash, Kibana, and Beats;
Dynatrace is a popular all-in-one solution for application and cloud infrastructure performance monitoring, digital experience, business analytics and AIOps;
Compuware Strobe, Zabbix, Splunk;
readiness to integrate with other tools.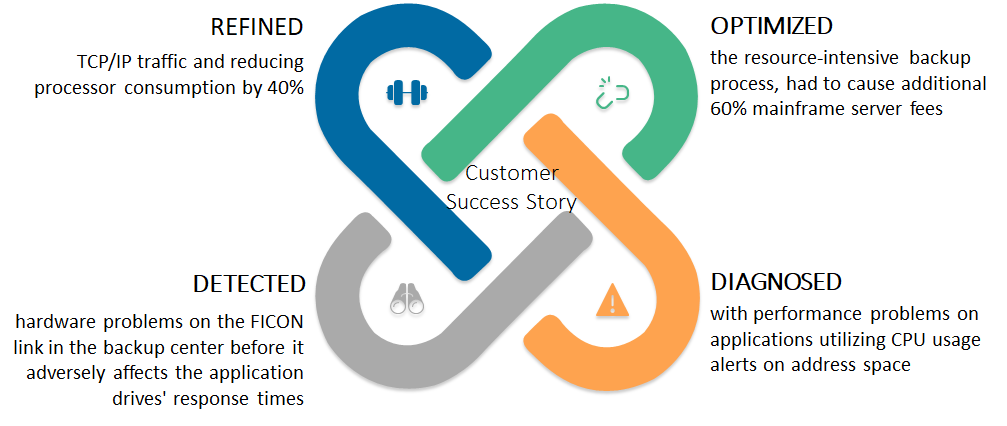 Z-RAYS significantly automates the monitoring, eliminating much manual work, achieving time redaction to identify incidents' causes. It delivers alerts with exceptions and anomalies or resources exhaustion prediction. Better monitoring means reducing MSU (a million service units) and related processing computer's work cost caused real money-saving. The tool protects your organization to avoid outages' risk and associated losses. Moreover, it provides information for proper resource planning.
Saving administrators' time spent on solving problems in the organization makes mainframe management possible in practice, simultaneously decreasing monitoring systems' costs. The result is a crucial contribution to comprehensive mainframe monitoring and distributed monitoring under a uniform comprehensive management.
Z-RAYS sp. z o.o.
Plac Andersa 7, Street
61-894 Poznań, Poland
Phone: +48 728327716
contact@z-rays.pl
Z- RAYS –  Mainframe Systems Monitoring
The subject of the Project
The subject of the Z-RAYS project is to create an intelligent solution for efficient and ergonomic monitoring of the mainframe environment in real-time in order to optimize the efficiency of IT specialists and improve troubleshooting times during the operation of mainframe systems. Monitoring will be done without significant impact on system performance and significant additional consumption of system resources with the support of Machine Learning algorithms. The project will also provide integration with solutions in the world of open systems.
Project Objective
The project aims to carry out R&D work related to the development of specialized algorithms using machine learning and to implement the results, as well as to raise the technological readiness of the product from TRL 3 to TRL 9.
Project budget: 1.000.000,- PLN
Contribution of the European Funds: 800,000,- PLN
Project implementation: 05.11.2020 – 04.11.2021
Program name
The project is implemented under the Operational Programme Intelligent Development 2014 – 2020, Measure 1.3: R&D works financed with the participation of capital funds (sub-measure 1.3.1): Support for R&D Projects in the preseed phase by proof of concept funds – BRIdge Alpha.
Home